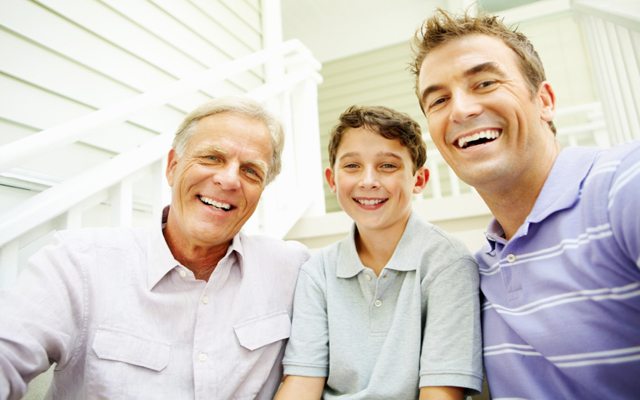 Isagenix can support men's health through all stages of life.
Although "June" as a name may derive from the Roman goddess Juno, the goddess of marriage and childbirth, it's decidedly a month for men with both National Men's Health Week (June 9-15th) and Father's Day (June 15th) laying claim. According to the Centers for Disease Control and Prevention, the purpose of Men's Health Week is "to raise awareness of ways to promote healthy living" and heighten the awareness of preventable health problems while encouraging early detection and treatment of disease among men and boys (1).
Nutritional needs for men change throughout the decades as described in a recent article on Boston.com (2). In this spirit, let's take a look at how Isagenix products can be used throughout the lifecycle to target decade-specific conditions in optimizing nutrition and improving the health and wellness of men.
Twenties: As men graduate from school or move into the workplace, their twenties are frequently a time of rapid lifestyle changes including greater personal independence. This also usually includes a period of very poor dietary habits. For complete, high-quality nutrition, men in their twenties need good meal replacement and snack options to keep them satisfied. IsaLean® Shakes serve as great meal replacement options rich in muscle-building dairy protein, high in fiber to promote satiety, and full of essential vitamins and minerals needed to ensure optimal energy production. Snacks such as Whey Thins, FiberSnacks!™, and SlimCakes® outperform the vending machine any day by providing the right combinations of protein and fiber rather than empty calories. For when a quick boost of energy is needed, e+ energy shots provide natural caffeine and athletic-enhancing Adaptogens. Finally, and what may be a surprise to many, because some brain functions actually begin declining in a person's twenties, what better way to provide "nutrition for your brain" than supplementing with Brain Boost and Renewal™, the uniquely-developed product designed to target those biochemical pathways involved in brain aging.
Thirties: Men in their thirties may devote increasing time and energy to their jobs and families, which often result in reduced athletic activities and regular exercise patterns. To ensure maximum energy burning (thermogenesis), take advantage of nutrient-dense IsaLean® Pro shakes, IsaLean® Bars and IsaLean® Soups in place of over consuming fat- and calorie-rich meals. According to extensive research many men in their thirties are likely getting inadequate quantities of vitamins, minerals, and plant bioactives (3,4). A solution is to supplement their diets with Ageless Essential™ Daily Pack with Product B™. To combat the stress and strain of normal life challenges, choose Adaptogen-rich products such as t+ Chai, Cleanse for Life®, and Ionix® Supreme to balance your mind and body.
Forties: By the time 40s come around, men really focus on the potential of overall declining health. To bolster cardiovascular function, IsaOmega Supreme® is a great source of heart-healthy long-chain omega-3 fatty acids such as EPA and DHA. Another important nutrient is vitamin D—with over 90 percent of the American population not getting enough—and is provided in a high concentration in Ageless Actives™ in addition to resveratrol, the anti-aging compound found in red wine and grape skin (3,4). Many men in their 40s are also routinely prescribed statin drugs to reduce risk of heart disease, but this recommendation comes with a price. In fact, it's long been known that statins significantly reduce levels of coenzyme Q10, the potent antioxidant and energy-producing molecule for all cellular activity. Luckily Ageless Actives is rich in coenzyme Q10, too.
Fifties: The goal for many men in their fifties is hopefully maintaining and continuing the lifelong patterns of good nutrition and regular exercise. Since diet and exercise are the two most important controllable lifestyle factors affecting good health, it's crucial to choose high quality nutrition. Again, as meal replacements, IsaLean Shakes, Bars, and Soups will provide all the necessary vitamins, minerals, healthy fats, fiber, and carbohydrates without those extra calories associated with obesity and obesity-related health outcomes. Sleep may become a problem in this stage of life as well, and to combat that a melatonin supplement should be used like Sleep Support & Renewal™, to help support the body's natural circadian rhythm in promoting sleep.
Sixties and beyond: Finally, for men ages 60 and up, the interplay of increasing prescription drugs, less physical activity, and age-related changes frequently result in inadequate nutrient intake, reduced nutritional status, and a significant reduction in muscle mass. This reduction in muscle mass and strength is also paramount in the acceleration of frailty and falls in this population. Preserving your lean body mass requires the one-two punch of adequate protein intake, sufficient vitamins and minerals, and of course, weight-bearing exercise. To ensure great nutrition that maximizes muscle building and fat loss there's nothing better than IsaLean Pro Shakes and IsaPro® whey protein powder—both high in branched-chain amino acids. The addition of Ageless Essentials Daily Pack with Product B for men can also ensure optimal functioning by filling in any and all nutrient gaps.
Men, take care of your health no matter what decade of life you're in. Isagenix is here for you every year of the way.
References
National Men's Health Week. http://www.cdc.gov/features/healthymen/?s_cid=cdc_homepage_feature_001
Decade By Decade: What Men Should Eat. http://www.boston.com/lifestyle/health/blog/nutrition/2014/06/what_men_should_eat_at_any_age.html
Fulgoni VL, Keast DR, Bailey RL and Dwyer J. Foods, Fortificants, and Supplements: Where Do Americans Get Their Nutrients? J Nutr 2011;141:1847-54.
Wallace TC, McBurney M and Fulgoni VL 3rd. Multivitamin/mineral supplement contribution to micronutrient intakes in the United States, 2007-2010. J Am Coll Nutr 2014;33:94-102.