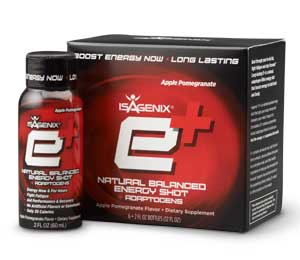 Are you in need of a little Monday pick-me-up? Kick-start your day with e+!
One convenient, 2-ounce, grab-and-go bottle features more health benefits and a better tasting flavor profile than your average cup of joe. And, at only 35 calories a shot, it works with your favorite Isagenix® system!
In fact, each bottle of this nutrient-packed, naturally caffeinated energy shot contains caffeine derived from green tea, yerba maté and a proprietary, scientifically proven blend of adaptogenic botanicals that gets—and keeps—you active and alert. They're even approved for Cleanse Days!
Enjoy up to two shots daily to increase your energy, stamina and mental alertness. In addition, one shot of e+:
Lasts for hours
Improves focus and physical performance
Is safe and effective
To find out just how good e+ really is, we asked 2-Star Silver Circle and Director Dr. Glenn N. Here's what he shared:
"Tried e+ before my morning workout. I am a morning coffee drinker, however I went without this morning. I can honestly say that this was the best workout I can remember having in ….like forever. No 'speedy' feeling, just incredible sustained energy. Mentally I feel SUPER SHARP! It's been over three hours since I took it and I still feel so energized. Great formulation, well done Isagenix! Can't wait to get more and Share the Shot!"
Share the Shot
How would you like to earn a little extra spending cash for the holidays and Share the Shot™ with your friends and family? Well, you can!
To start earning residual cash, sign up with Isagenix with a qualifying system or pak and getting two people to join with you. It's just "You+2 and Them+ 2;" simple!