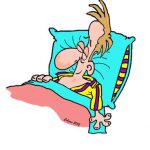 by Dr. Michael Colgan
One of my college profs used to pile on the projects, meeting our groans about sleep with, "Five hours for a lazy man." He seemed to thrive that way, very fit, legendary for his 6 a.m. workouts at the Uni gym. I never got up that early, but often noticed his office light when leaving the library after it shut at 10 p.m. He died of a stroke aged 64.
His death made me take a good look at sleep research. Studies cited in my little book, Sound Sleep (1), and numerous other reviews (2,3) show that fewer than seven hours sleep a night promotes increased risk of chronic health problems and growth of visceral fat.
Sleep is a circadian (24-hour) physiological rhythm, essential lifelong for more than 100 physiological processes, including brain growth, memory, and cellular restoration throughout the body. Because of the revolution of the Earth, sleep is programmed into our DNA and controlled by melatonin in the brain which switches on at night and off with the break of dawn. The night-time sleep cycle controls the physiology of one-third of your life, and largely determines your health in the other two-thirds (4).
The majority of Americans just don't get it. The National Sleep Foundation reports that 63 percent of Americans, almost 200 million people, get insufficient sleep. No wonder most of us are sick and tired (5).
Like my old prof, you can easily cut your sleep, and tell yourself you don't need much. You can also down a bottle of whiskey a day and tell yourself you have a titanium liver. You can follow any number of unhealthy practices, but I wouldn't give much for your chance of seeing your grandchildren graduate from college.
I trust most of us are decades away from the reaper yet, but here's the sleep crunch. If you're struggling to improve your body and mind, or working through an Isagenix 30-day Program and not getting super results, sleep may be the problem. Poor sleep can cancel out all the health benefits of even the best diet, exercise, and supplement program.(6).
Permanent fat loss is a prime goal for many folk who consult me. No hope without sufficient sleep. In 2004, research at the University of Chicago first showed that poor sleep reduces the brain's ability to regulate hormones that control hunger. Subjects let sleep only four hours a night for just two nights showed an 18 percent decline in leptin, the main hormone that turns off appetite. They also showed a 28 percent increase in ghrelin, the main hormone that triggers hunger and cravings for quick-sugar, high-carb foods (7).
Two summaries of recent studies, one in the British Medical Journal, and the other by world famous sleep researcher Dr. Russell Reiter, extend these findings. We know now that poor sleep causes severe damage to sugar and insulin metabolism, and a large drop in human growth hormone, the so-called "youth hormone". Sleep deprived subjects not only eat more carbs, and gain more visceral fat, they also lose muscle, look haggard, look years older, and — nasty of nasties — develop irreversible saggy skin (8, 9).
So what has this to do with your cell phone? Simple. Waning of the light at night stimulates a nerve pathway from the eye to parts of the brain that release melatonin to control the sleep-wake cycle. Light at bedtime from a cell phone, tablet, E-reader, or computer suppresses melatonin release. To produce white backlight, these devices emit blue light at short wavelengths, right at the peak sensitivity to suppress melatonin (10). So there you lie, eyes like holes burned in a blanket, cultivating your muffin top.
If you just love to phone or text in bed, there are solutions. Keep your bedroom cool, and really dark. Once in bed use an amber night light. Amber enough to just see by does not affect melatonin. You can also use the software program that automatically changes the light of your device towards amber at night and blue during the day. Not perfect. So also use the unique Isagenix Sleep Support & Renewalspray to top up your melatonin. Sweet dreams will beat that muffin.
References
1. Colgan M. Sound Sleep. American Fork Utah: Sound Concepts, 2012.
2. Blask DE. Melatonin, sleep disturbance and cancer risk. Sleep Medicine Reviews, 2009;13 257–264.
3. Alberto Dominguez-Rodriguez, et al. Melatonin and circadian biology in human cardiovascular disease. J Pineal Research, published online: 1 June 2010 DOI: 10.1111/j.1600-079X.2010.00773.x
4. http://www.sleepfoundation.org/article/how-sleep-works/how-much-sleep-do-we-really-need 
5. http://www.sleepfoundation.org/article/press-release/annual-sleep-america-poll-exploring-connections-communications-technology-use-
6. Nedeltcheva A, et al. Insufficient sleep undermines dietary efforts to reduce adiposity. Ann Intern Med. 2011 April 5. Available at http://www.ncbi.nlm.nih.gov/pmc/articles/PMC2951287/
7. Spiegel K, Tasali E, Penev P, Van Cauter E. Sleep curtailment in healthy young men is associated with decreased leptin levels, elevated ghrelin levels, and increased hunger and appetite. Ann Intern Med. 2004 Dec 7;141(11):846-50.
8. Axelsson J, et al. Beauty sleep the perceived health and attractiveness of sleep deprived people.BMJ 2010
9. Reiter R, et al. Obesity and metabolic syndrome: Association with chronodisruption, sleep deprivation, and melatonin suppression. Annals of Medicine, September 2012, Vol. 44, No. 6, Pages 564-577  doi: 10.3109/07853890.2011.586365
10. Wood B, et al. Light level and duration of exposure determine the impact of self-luminous tablets on melatonin suppression. Applied Ergonomics 2013 Mar;44(2):237-40. doi:10.1016/j.apergo.2012.07.008.