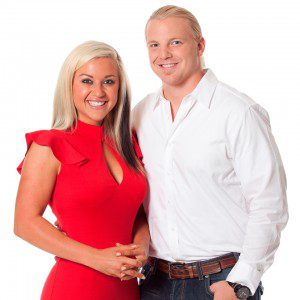 Emily and Hayden V. of Fridley, Minnesota never expected to be debt-free in their twenties. Before discovering network marketing and Isagenix®, Emily was working two jobs to get by and Hayden was figuring out what his next move would be after an opportunity in pro football didn't work out. After having two positive product experiences, these high school sweethearts decided to join forces on doing the business together. The two scored a $23,000** bonus for a job well done and were able to plan a dream beach wedding in Florida with no financial worry. Not only that, but they also managed to pay off Emily's mortgage and Hayden's student loans with plenty left to spare.
Why Isagenix?
"I don't know anywhere else where we can help people with their health, help them pay their bills and help them grow personally in their lives. It's all an amazing package," says Emily.
"There's also the competitive aspect, with the different promotions, that creates a fun and exciting atmosphere," adds Hayden. "You're working with a team that's motivated and has the same goals as you. That's huge for young people. Network marketing, and especially Isagenix, offers an opportunity to work as hard as you want while getting compensated for it."
While many of their peers are moving back home and struggling to find jobs, Emily and Hayden are enjoying the freedom of setting their own hours in a career with unlimited income potential.
Consistently Building
In the last three years, the couple's Isagenix business has really grown thanks to social networking on Facebook. "It's really showcasing our day-to-day life and a lot of people are asking, 'How are you going on these trips and having so much fun?'" shares Emily. "Facebook people look at that stuff more than you think."
In the past year, these 26-year-olds have added fresh college graduates to their team and are on pace to hit six figures** this year. The 6 Star Golden Circles, 3 Star Crystal Executives are still blown away by their August check, which was just over $23,000,** thanks to the Executive Leadership Pool bonus. With their accomplishments surpassing their expectations, they now plan on maxing out, starting their re-entry leg, and creating three more six-figure earners this year.
"We're creating trust, value and respect, and helping people find their purpose," says Emily. "We're so thankful to be a part of this amazing company," adds Hayden, "We work hard, but it's on our time. There's no living for the weekend because every day is the weekend."
Emily and Hayden's Favorite Products
Ionix® Supreme
Ageless Essentials™ with Product B™
e+™
IsaLean® Pro
Emily and Hayden's Tips for Success
Get to an IsaU ASAP like your life depends on it.
Enroll new people into your organization. Go on an enrolling sprint. Aim for 20 new Associates in 30 days.
*The weight-loss testimonials presented apply only to the individuals depicted, cannot be guaranteed, and should not be considered typical. A 2008 university study showed a statistically significant weight loss of 7 pounds during the first 9 days of the Cleansing and Fat Burning System.
** Earning levels for Isagenix® Independent Associates that appear in this publication are examples and should not be construed as typical or average. Income level achievements are dependent upon the individual Associate's business skills, personal ambition, time, commitment, activity and demographic factors. For average earnings, see the Isagenix Independent Associate Earnings Statement found at www.IsagenixEarnings.com.