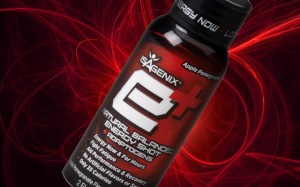 e+ and Cleanse Days are a perfect match.
When people choose to cleanse, the No. 1 goal they have is to lose weight in a safe, healthy manner. An Isagenix system delivers with Cleanse Days that help the body detox and boost fat burning.
Only, sometimes folks have trouble in completing Cleanse Days. Their reasons can include feeling too hungry, tired, irritable, or having a lack of motivation and focus. That's where e+™ natural energy shots can come in to make cleansing easier.
Feeling hungry? e+ ingredients can help curb cravings. How it does so has partly to do with the shot's content of caffeine supplied by yerba mate and green tea. Growing evidence suggests caffeine is useful for reducing the desire to eat—for a limited amount of time—although it's wise not to overdo it (1, 2). An added plus is that caffeine and green tea antioxidants can help stimulate thermogenesis, which could help you burn at least a few additional calories per day (3, 4).
Feeling tired? Partly due to caffeine content, but also the adaptogens, the shot helps wake cleansers up. Studies looking at adaptogens, such as eleuthero and rhodiola, find that they fight fatigue by helping to normalize the body's response to stress (6-12). In this way, e+ gives cleansers sustained energy and keeps them from hitting the wall. The wall, in this case, might be a tempting bag of chips.
Not in the mood? e+ can help with that too. Addressing the problem with the combo of caffeine and adaptogens can help correct any feelings of stress or irritability (7, 8, 13, 14). No need to lash out against innocent bystanders on Cleanse Days. Instead, enjoy an e+ and share the shot with those good people.
Down on cleansing because of a lack of motivation or trouble concentrating? It might just be because of hunger. Being hungry brings on "brain fog". The solution—you guessed it!—is a shot. Studies show that a little sugar (such as from e+'s natural juices) combined with caffeine and adaptogens can work together to help increase concentration (8, 10, 13, 14). Take a shot: think clearly on Cleanse Days.
Blood sugar lows? Having e+ handy for boosting blood sugar may not be a bad idea for some people. Low blood sugar may affect some people while on a Cleanse Day. To avoid an episode, the typical recommendation from doctors is to eat or drink something right away with quickly absorbed sugar in it like fruit or fruit juice. Those with hypoglycemia, severe hypoglycemia, or diabetes are advised to discuss their personal situations with their physicians before trying a Cleanse Day or any nutritional product.
But will e+ interfere with cleansing and what about the extra calories? Both these questions have come up in relation to e+'s use on Cleanse Days. For these reasons, Isagenix performed an in-house pilot trial. The results were that e+ did not interfere with the effectiveness of the Isagenix system. In fact, the subjects in the trial who used e+ showed a positive trend toward greater weight loss compared to those who didn't use the product. In short, the benefits of the adaptogens and natural caffeine should eliminate any concern about the minor addition of calories on Cleanse Days.
References
Nawrot P et al. Effects of caffeine on human health. Food Addit Contam 2003;20:1-30.
Dulloo AG et al. Normal caffeine consumption: influence on thermogenesis and daily energy expenditure in lean and postobese human volunteers. Am J Clin Nutr 1989;49:44-50.
Hursel R et al. the effects of catechin rich teas and caffeine on energy expenditure and fat oxidation: a meta-analysis. Obes Rev 2011 12:e573-81.
Collins LC et al. Effect of caffeine and/or cigarette smoking on resting energy expenditure. Int J Obes Relat Metab Disord 1994;18:551-6.
Ganio MS et al. Effect of caffeine on sport-specific endurance performance: a systematic review. J Strength Cond Res 2009;23:315-24.
Kuo Jet al. The effect of eight weeks of supplementation with Eleutherococcus senticosus on endurance capacity and metabolism in human. Chin J Physiol. 2010 Apr 30;53(2):105-11.
Darbinyan V et al.  Rhodiola rosea in stress induced fatigue–a double blind cross-over study of a standardized extract SHR-5 with a repeated low-dose regimen on the mental performance of healthy physicians during night duty. Phytomedicine. 2000 Oct;7(5):365-71.
Aslanyan G et al.  Double-blind, placebo-controlled, randomised study of single dose effects of ADAPT-232 on cognitive functions. Phytomedicine. 2010 Jun;17(7):494-9.
F. Facchinetti et al.  Eleutherococcus senticosus reduces cardiovascular stress response in healthy subjects: a randomized, placebo-controlled trial. Stress Health. 2002 Feb; 18 (1): 11–17.
Olsson EM et al. A randomised, double-blind, placebo-controlled, parallel-group study of the standardised extract shr-5 of the roots of Rhodiola rosea in the treatment of subjects with stress-related fatigue. Planta Med. 2009 Feb;75(2):105-12. Epub 2008 Nov 18.
Noreen EE et al. The Effects of an Acute Dose of Rhodiola Rosea on Endurance Exercise Performance. J Strength Cond Res. 2012 May 24.
Hung SK et al. The effectiveness and efficacy of Rhodiola rosea L.: a systematic review of randomized clinical trials. Phytomedicine. 2011 Feb 15;18(4):235-44. Epub 2010 Oct 30.
Scholey A, et al. Acute neurocognitive effects of epigallocatechin gallate (EGCG). Appetite. 2012 Apr;58(2):767-70.
Smith A. Effects of caffeine in chewing gum on mood and attention. Hum Psychopharmacol 2009;24:239-47.