It's back!
Our new, dairy-free Isalean Shake Natural Berry Harvest is now back in stock and ready to ship! If you've been calling your friends trying to snag a 14-count box of our newest premium meal replacement shake, the wait is over. And, while your fingers are doing the shopping, why not grab the Dairy-Free 30-Day Cleansing and Fat Burning System to get your best results just in time for swimsuit season?
Dairy-free, vegan- and vegetarian-friendly, Natural Berry Harvest IsaLean Shake features a uniquely formulated protein combination called Phyto-IsaLean Complex™, which is a blend of natural pea and hemp protein to maintain and build lean muscle while supporting healthy weight management.
So what's so unique about the natural pea and hemp protein in our Phyto-IsaLean Complex? Together, these two proteins are superior choices for plant-based protein due to their complete amino acid profile, according to Isagenix Founder and Master Formulator John Anderson.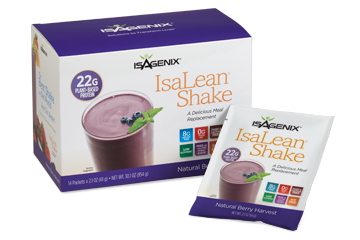 Want to know what others are saying about Natural Berry Harvest IsaLean Shake? Here's just a taste:
"As someone who has tried every non-dairy shake on the market, I am excited for this new Isagenix shake; same nutritional profile and it tastes great!" -Daniele H.
"I love the new Natural Berry Harvest IsaLean Shake! I've had many vegan shakes and this by far tops them all. I could see many families using this every morning." -Janey S.
"I have always loved adding frozen berries to my vanilla shakes; now I can enjoy the berry flavor without adding any extra calories."