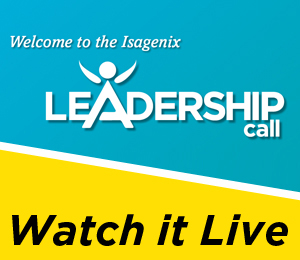 Isagenix® is breaking records left and right and we can't wait to share all of the exciting highlights with you on the next, all-new Isagenix National Leadership Call on Tuesday, June 18 at 10 a.m. Pacific Time!
The new call features a special live stream video where you'll get to see our Executive Team members and Sales Team members sharing the news and recognition you already enjoy on a monthly basis. Not near a computer or a smartphone? No problem! You can still call in the traditional way and just listen to the audio if you wish.
So, how can you participate in this new video live stream? Here's how it works:
1. Mark your calendar for Tuesday, June 18 at 10 a.m. Pacific Time 2. Log in to your Back Office. 3. Click on the "View & Manage Events" button 4. Scroll down until you see "Live Streaming Events" and select the "Live Video Stream" button.

Kyle N.
Once you're all set up, you'll get to see the smiling faces of our Executive Team and Sales Team members throughout the call. It's just one way we want to make it even more special to connect with you every month. This month, we'll be featuring an interview with new Isagenix Millionaire Kyle N.!
Spread the word and make sure you never miss out on the monthly National Leadership Call. We look forward to recognizing you on the next call!