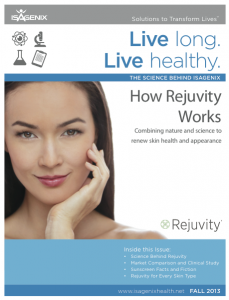 Click image above for the latest issue of "Live long. Live healthy." which explains how Rejuvity works.
To view our latest newsletter, click on the image to the left (orhere). In this issue you'll find plenty of valuable information and visuals on "How Rejuvity Works." In addition, here's a word from Isagenix Chief Science Officer Suk Cho, Ph.D., introducing Rejuvity and the newsletter:
Did you know your skin is incredible? It's your body's largest organ. It's made up of billions of skin cells and is constantly changing and regenerating itself. In fact, just in the time it will take you to read through this newsletter, you will lose and regenerate about 40,000 cells.
As a former member of the Society for Investigative Dermatology with a long history in creating advanced skincare products for several top companies, I can confidently say the Isagenix Rejuvity skincare system is a step above the rest. Not only are the products free of harmful chemicals and toxicologist-tested, they are also effective for improving skin texture, elasticity, firmness, and hydration as seen in our clinical trial.
With Rejuvity, we've taken the best of what nature has to offer and applied advanced technology to help support your skin cells' communication leading to youthful, radiant skin. In this Fall issue, you'll learn how the seven products of Rejuvity work together to target your skin's needs and, when paired with the Isagenix nutritional system, not only support healthy skin from the outside in, but also from the inside out.
Suk Cho, Ph.D.
Isagenix Chief Science Officer