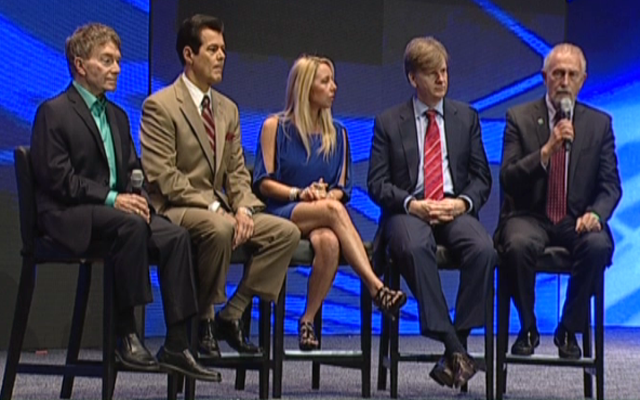 Dr. Dennis Harper speaks on stage as part of the Health Panel at the 2013 Celebration event.
If you were at the Isagenix 2013 Celebration held in Las Vegas last month, then you may have been present for the Health Professional panel involving Chief Science Advisor, Suk Cho, Ph.D., and esteemed doctors and scientists who use Isagenix and recommend the products to their patients.
Dr. Cho and the panelists offered some great discussion on various health topics, one being the American Medical Association's recent decision to define obesity as a disease.
Dr. Messina, a board certified family practitioner and principal investigator for numerous clinical trials, was quick to disagree with the decision. Dr. Messina argued that the new definition only serves to justify an increase of prescription lap band surgeries and medications that act as a "band aid" and don't truly address the real problem of obesity. "Quite honestly," he said, "more lap bands and pharmaceutical band aids is like having a bunch of doctors running around an overflowing sink handing out more mops instead of turning off the faucet."
Dr. Messina hit the nail on the head when it comes to what won't work for tackling the obesity problem—superficial band aids. Speaking a little to what does work, he went on to say, "I do believe that obesity is a multi-factorial condition… [W]hat are co-factors of this condition—toxicity, nutritional deficiency, stress—and what does Isagenix take into account in concert? All those things and that's why it works."
Taking over the floor to give his perspective on the issue, Dr. Harper, who has over 25 years of experience in general medical practice and complementary medicine, shared his agreement with the decision. He went on to discuss the many people he believes could benefit from Isagenix because of it. He told the audience to set aside the political aspect of the AMA's decision for a minute and consider, "What kind of opportunity does that open up now for Isagenix people? Doctors now are going to eventually be receiving reimbursements for counseling their patients…They're going to need your assistance."
Whether it's Dr. Messina or Dr. Harper who is in the right, only time will tell. But there seems to be two commonalities both doctors agreed upon—health professionals play a major role in the fight of obesity and Isagenix is the perfect tool for success.
While diet pills and fad diets claim to be the obesity solution, science supports healthy lifestyle changes and balanced diets that people can adhere to for the long-term—exactly what Isagenix offers. Already, there are plenty of doctors who use Isagenix in helping their patients live healthier lives. It's a natural fit— health professionals providing healthy products.
However, approaching any health professional with Isagenix products can be an intimidating task, and not everyone feels comfortable doing it. Speaking at a Product Vignette in the Isagenix Store at Celebration, Dr. Messina shared valuable tips on how to talk to doctors about Isagenix and the University of Illinois at Chicago study using Isagenix products. Here are a few of the tips he gave:
Refer to the two peer-reviewed articles about the UIC study in Nutrition Journal and in Nutrition and Metabolism.
Explain that the Isagenix system is a regimen combining "calorie restriction with nutritionally supported intermittent fasting", as mentioned in the study. (This is familiar language to health professionals unlike "detox" and "cleansing", which can typically raise eyebrows.)
Demonstrate that the results found in subjects using the Isagenix system were superior to those following the "heart healthy diet" across all parameters.
Don't forget to show the MRI images illustrating greater loss in visceral fat—this is a compelling finding!
Sharing the results of the clinical study with health professionals can open their eyes to the credibility of Isagenix products. With doctors playing a major role in tacking the obesity epidemic, it's our responsibility to provide them with the most effective and safe tool—Isagenix.